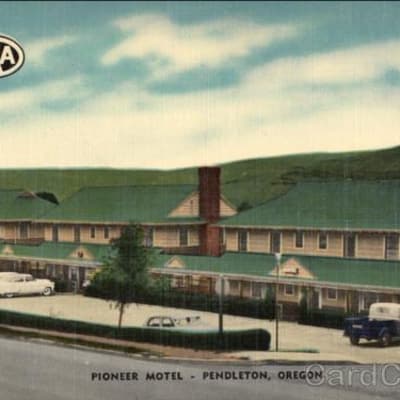 Our History
What's in a name?
Back in the summer of 2003, a friend of the family visited us in Wallowa County all the way from Concrete City – Patterson, New Jersey. While camping in the Eagle Caps for the first time, wide-eyed Jimmy Nawicki awoke to God's grandeur and penned his famous (in our circles) 'Rugged Country' lyrics. The male part of the Lodge's partnership voted for 'Rugged Country Lodge,' remembering with a smile Jimmy's song, while the female half wanted 'Dream Soft' to appeal to the more feminine side. And, after all, this sure is rugged country.

History
Rugged Country Lodge was built sometime in the 1950′s and was first known as the Pioneer Motel. When the current owners purchased it, the tired little place was being run as the Budget Inn and badly in need of some TLC.
Christmas Eve of 2003, Community Bank, headquartered in Joseph, Oregon, presented a deed for the motel property to Providence Academy of Classical Christian Education, a private classical Christian school in Lostine, Oregon. The bank had repossessed the neglected motel property from its former owners before donating it to the school.
Unfortunately, that winter, Pendleton experienced one of its coldest, and all of the motel's plumbing and pipes had frozen before Providence Academy had a chance to winterize the property. Undaunted, a few naive personal investors decided to plunge ahead with the Rugged Country Lodge project anyway. We agreed to lease the motel grounds from Providence Academy and after a major and lengthy renovation, the all-new Rugged Country Lodge opened its doors to travelers in July of 2004. It has been a labor of love and an experience we wouldn't trade–despite all the remodeling surprises along the way!
Hmmmm, that is quite another story and space wouldn't permit. Besides, we wouldn't want people to know just how naive we were! The old saying "ignorance is bliss" is definitely true! Needless to say, countless hours were spent in trying to create a "home away from home" for the weary traveler that reflected what we wanted when we hit the road (and we do that a lot.) We wanted a place that exuded a warm yet peaceful atmosphere where our guests would become like old friends, returning many times; almost more like a bed-and-breakfast than a motel. We have always been thrilled by the prospect of finding just such a little family-owned place when we travel-–but seldom do.
May our little motel be a place of peace and refuge for you, weary traveler, and may we see you many more times….Dream Soft!

Our Staff
Good help is hard to find and we are thankful to have just recently hired NADEEM AKHLAQ as our manager. In addition, we have a dedicated group of employees who are always willing to go the extra mile for our guests. We are so grateful for our providentially-found staff who love RCL as much as we do. They treat the Lodge like their home and our guests like their family. Without our cheerful staff, there would be no Rugged Country Lodge!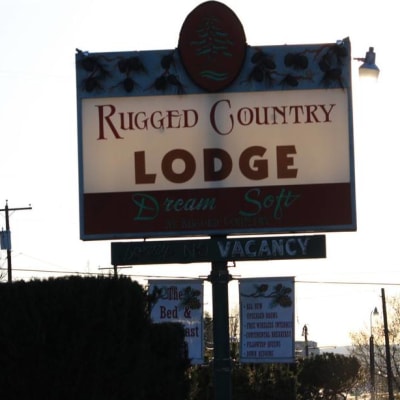 Our Story
Once Upon a Time
When I was a little girl I loved playing house. I spent hours fluffing pillows, picking and arranging straggly flower bouquets and constantly reorganizing my parents' well-worn furniture. Well, I'm all grown up now, but that doesn't mean I've quit playing house. No, now I'm doing it on a little grander scale!
To date, I've re-decorated my way through quite a variety of abodes: a cab over camper, a horse trailer with living quarters, an office building, various homes, a restaurant and yes, I've even designed what I call "Ralph Lauren" tipis at the RimRock Inn in Enterprise, Oregon! As a matter of fact, I'd probably redo the dog box, if only I could get into it!
Having a small motel to redecorate has truly been a labor of love and has given me great satisfaction. I've tried to make Rugged Country Lodge the kind of place I love finding out on the road, but seldom do. My decorating style is influenced by many things and is tailored to the project, but certainly traveling in Europe has had a major effect. Above all else, my first priority (in wherever my decorating takes me) is to make the space feel as warm, cozy and inviting as possible.
Office Hours

Checking in at our cozy little office is easy you will be greeted by a professionally trained staff member, eager to give you one-on-one personalized guest service–the kind found in four-and five-diamond resorts!

Our office hours are 8AM until 10 PM. But don't worry, if you come in before or after hours, we provide a phone number for you to reach us.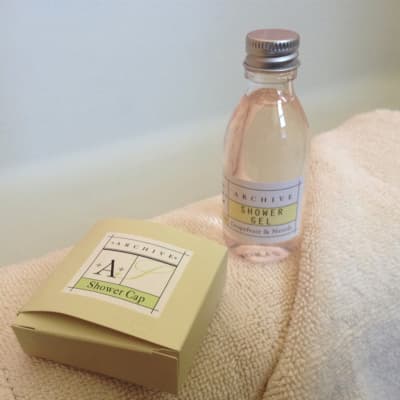 Amenities
Fine Décor
You'll see at a glance that we intend to be your home away from home. No lack luster, boring motel furniture here! We've purposely chosen Broyhill's Attic Heirloom hardwood furnishings in an eclectic mix of colors and styles designed to make you feel right at home. Our choice of quality artwork by Albrecht Bierstadt and Thomas Moran perfectly accent our lodge style and themes of nature, so intertwined in this corner of Northeastern Oregon.

Squeaky Clean
Entering your sparkling clean, up-scaled boutique room, you will appreciate our non-smoking policy throughout the lodge. (Tables with ashtrays are conveniently located outside.) Guests who smoke in our rooms will be charged up to a $250.00 fee.

At Your Fingertips
Our Broyhill armoire holds a 27" crystal-clear RCA television with 29 cable channels. We are slowly in the process of upgrading to flat screen HD TVs. The armoire has two drawers that are ample to hold your personal belongings (after you remove the extra polar fleece blanket). For your convenience, alarm clocks, microwaves and refrigerators are found in each room and ice is always available during office hours.

Our quaint vintage-tiled bathroom and fixtures are outfitted with thick, luxurious white towels, Archive Botanical Natural Bath products, a cushioned bath mat and a squeaky clean shower and tub unit. While our bathrooms and tubs are not overly large they are adequate, and period tile in contrasting colors makes them a favorite! The 1950's renovated bathroom includes elongated toilet and a pedestal sink with a privacy window.
Dream Soft

The best is yet to be! You would think our Spring Air Imperial Elite top-of-the-line queens (with 580 coils per inch) would be enough, but we've added a divinely soft two-inch platinum pillow topper, 3-4 down pillows and a 240 cotton thread count lofty blanket sandwiched between two 200 thread count, wrinkle resistant elegant tone-on-tone white sheets … now you're definitely ready to dream soft.
Gotcha Covered
Should you need an iron/ironing board, hair dryer or an item you may have left at home, please call our office for fast, friendly delivery to your door. We have just about everything you need, including free wireless in each room, crib and air mattress and many other extras to make you feel at home.
Rooster Room 6:30 to 9:30 am
Our expanded, fresh breakfast is something to crow about! We proudly serve Java gourmet coffees. At 6:30 AM our gourmet coffees will aromatically draw you toward breakfast in our 'Rooster Room,' where fresh fruit, ,bread,bagels and cream cheese,cereal,oatmeal,Apple juice,orange juice and more are served until 9:30 AM. You can eat at indoor or outdoor tables or take a tray back to your room for more privacy.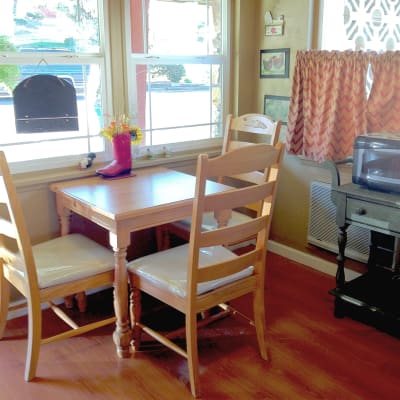 More Amenities
Pet Friendly
Your furry pet friends (sorry, no feathers!) are welcome at Rugged Country Lodge. However, we do charge $10 per pet/per night (up to two pets) since we completely strip rooms after your pet's stay. If you have more than two pets you may call us to discuss possible options. Since we have designated pet rooms, it is vital you let us know upon booking that you have a dog.Undeclared pets will be charged $50.

Free WiFi
Stay connected with our high speed free WIFI. We realize how important the internet is. So we are pleased to help you keep up with your online activities even when you are relaxing in one of our cozy rooms.

Ecofriendly
As a way to do our part in reducing the carbon footprint, Rugged Country Lodge is eco-friendly. We are consciously making every effort to go "green" wherever possible.

Family Matters
But wait—we don't want you to be misled! With all this, you would think we were a huge chain. The truth is we're only—after all—a family owned 28 room property completely renovated in 2004 and upgraded again in 2012. Yet, that's the beauty of it! Though we don't offer a fancy fitness room, Olympic-sized pool or a large convention center, we are able to offer some things those other expensive chains can't … personalized, friendly and cheerful service in an authentic little roadside motel…the way it used to be!

Let Us Make Your Reservations
If you're relaxing at the Lodge, downtown Pendleton is only minutes away with many shopping and cultural activities to pass the time. If you want to see the sights, let us give you the skinny on what's in town to see and do. We'll happily book your reservations! We believe that nowhere else in Northeastern Oregon—or maybe anywhere—will you experience this kind of motel value.
Find all this too hard to believe? We would too, but the proof is in our guest's comments! See for yourselves what makes us stand alone and why our guests come back time and time again to their home away from home.

Be Our Guest
We're waiting for you, so call today or book online. Rugged Country Lodge, is Pendleton's cutest, cleanest, most affordable motel, where our guests dream soft!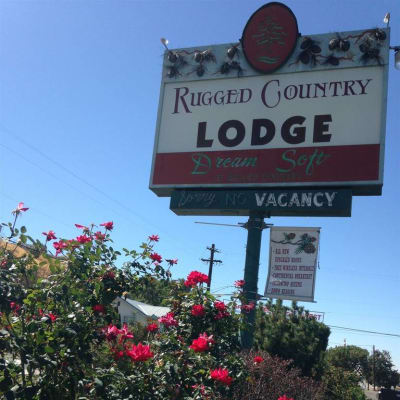 Mission Statement
The Rugged Country Lodge has a mission to "create a home away from home." We strive to serve you in such a way as to show our love for you by always providing sparkling clean rooms, a cozy bed and breakfast-like atmosphere where our guests are treated like friends.
Through trust, integrity, and believing that others are more important than us we hope to set a new standard in the hospitality industry. It is our dream that this philosophy of excellence will impact not only our great motel, but our community and ultimately–the world.